It has been tremendously rewarding for me to interview, research and write stories about the lives of Chinese people in New Zealand.
My father Ho Chew Chong had the Jang Hing fruit shop in Broadway, Newmarket from 1933 to 1953. My mother, Ho Sue Shee 何蕭氏 arrived from China with my sister Rita (Ho Bik Wun 何碧雲) in 1939 as wartime refugees.
My mother gave birth at home to four more children: Lily (Ho Bik Har 何碧霞 aka Ho Li Li 何莉莉) born in 1940, Jack (Ho Jick Kie 何澤旗) born in 1942, Ray (Ho Jick Wai 何澤輝) born in 1944 and Mary (Ho Shou Ee 何俏瑜) born in 1947. We were all born in Newmarket.
We were known as Chongs although our family name was Ho. We were very friendly with the other Zhongshan families in Newmarket: the Lums, the Wongs (Hings) and the Fongs. I remember that as a child we had a constant stream of Zhongshan people coming and going from our house.
In 1949 my mother decided to move to Mangere to start a six acre market garden at 90 Hall Avenue when I was nine years old. My father stayed in Newmarket to work the fruit shop for another four years. I went to Chinese school on Saturdays and I made friends with other children whose parents were from different counties in Guangdong. I attended Mangere Bridge School and Epsom Girls Grammar. It was during my sixth form year that a Zhongshan family friend, Judy Wong, a student from Fiji, suggested that I take up university studies.
I entered the University of Auckland in 1958 and graduated with a Bachelor of Arts in Geography in 1961. I was one of the first of the New Zealand born children of Chinese war refugee mothers to graduate from a university in New Zealand.1 I trained as a secondary school teacher at Auckland Teachers' College and received my Diploma in Teaching in 1962 after I completed teaching for one year at Manurewa High School.
My parents were keen for me to go to Hong Kong, so in 1963, together with my father, we left New Zealand for Hong Kong. I experienced culture shock but I also had and an amazing time learning about Chinese culture, history and civilisation. I met my eldest sister Ho Wun Ying for the first time and I lived with my sister Rita, Sing Chong and their children for nine months.
I travelled to Zhongshan with my eldest sister and my auntie for nine days. I spent time in my father's village of Gum Kei and my mother's village of Nam Mun. I visited other villages as well as going to Sek Kei. My visit to Gum Kei and meeting relatives there was a defining moment in my life. As a young 22 year old I gained a real sense of my identity as a Chinese person.
In 1964 I married my first husband David Lee (his father was a Gin (甄) from Toi Shan and his mother was a Wehi from Tainui). We have four children: Jenny (Gin Bol Jun 甄寶珍) b.1968, Maryann (Gin Bol Kwun 甄寶群) b.1971, Stephen (Gin Wing Lok 甄永樂) b.1976 and Peter (Gin Wing Siu 甄永兆) b.1979. I have a foster daughter June Jelas born in 1966.
While bringing up the children I also worked as a primary and secondary teacher in a number of schools. In 1989 I joined the Ministry of Education as a Liaison Officer. The work of implementing government policy and initiatives was exciting and challenging. I worked in various positions for 16 years until the age of 65.
In January 2006 I had plans to relax and enjoy retirement. But that was not to be. In March 2006 my brother Ray Chong (Ho) then President of the Auckland Chinese Commercial Growers Association approached me about scoping a project on Chinese market gardeners. I agreed to look into it – but I never expected to be interviewing Chinese market gardening families for a book!
Ruth Lam worked with me and we produced a set of two books: 'Sons of the Soil: Chinese Market Gardeners in New Zealand', and 'Success through Adversity'. Ruth and I compiled a substantial 'List of Chinese Market Gardeners in New Zealand' including their name in Chinese and their home village in China. The books were commissioned and published by the New Zealand Federation of Chinese Commercial Growers with funding from donors and the Chinese Poll Tax Heritage Trust.
The launch of the books at the Auckland Chinese Community Hall in Mangere on 12 July 2012 was, I believe, a very historic occasion for Chinese New Zealanders. Many had come from a market gardening background. There were around 500 people present – eager to buy books and celebrate their stories!
We then held successful mini-launches in areas where there were Chinese communities: Pukekohe, Gisborne, Napier, Hastings, Palmerston North, Ohakune, Levin, Otaki, New Plymouth, Wanganui, Wellington, Christchurch, Oamaru and Dunedin. This acknowledgement of the contribution of local Chinese to the market gardening industry was especially important, as was the donating of sets of books to local libraries and museums.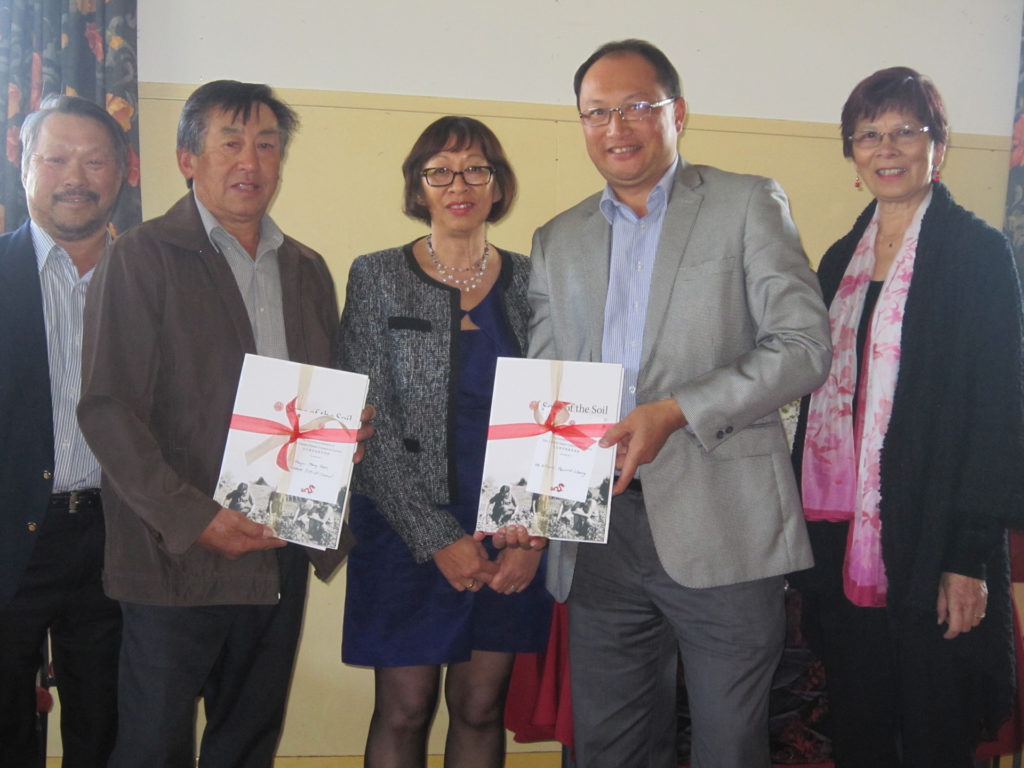 Today I am very happy and privileged to be writing about families from the Auckland Zhong Shan Clan Association. I would like to continue to interview and capture the oral stories of Zhongshan pioneer families to share with future generations.
Reference