Written by Lily Lee, 24 September 2018
Lowe Gun 劉根
Lowe Chung Gun 劉 松根, known as Lowe Gun was born on 19 September 1894. Lowe Gun originally went to Australia and then to Fiji to find work. No record has been found of the date he arrived in Fiji but we know that he worked there for a few years, that he occasionally sent money home, and that he saved enough money to help pay towards the £100 poll tax to enter New Zealand. He may have known Lowe Jack Sue,1 also from Woo Jow Gerk, who also arrived in New Zealand from Fiji on the SS Talune in 1919.
Lowe Gun was aged 28 when he arrived in Auckland on the ship Paloona on the 27 November 1919. His poll tax receipt was No. 850 and he paid the full amount of £200 upon entry.2
Lowe Gun had very little schooling – perhaps a year or two in Chinese – but in the early years in New Zealand he was very resourceful. He managed to find things out very quickly, seeking help from fellow countrymen such as Thomas Doo of 51 Greys Avenue, who could read and write English and was accustomed to dealing with immigration and other authorities.3 Some of his records show that Lowe Gun went back to China at least three times in 1927, 1934 and 1940.
Family in China
Lowe Gun was the fifth child in the family. He had four older brothers. Several of the brothers went to Jamaica and then on to America, the fourth brother went to Sydney. They earned sufficient money to return home and build houses and buy land.
Two of his brothers chose to build in Hang Mei (a larger village closer to Sek Kei where they already had relatives) in an area called 'Siu Goo Leng'. The third brother (in his twenties or thirties) was said to have gambled away his money on board a ship during his return home. He was devastated by his actions, became ill and died after his wife had a baby girl. Lowe Gun was very young when he married his first wife Lowe Choy See.4 She gave birth to four daughters. Three of the daughters married and as was the custom they moved to the village of their respective husbands. The fourth daughter Lowe Bo King 劉寳琼 (born 13 October 1935) was to settle later in New Zealand.
When Lowe Gun returned to China in 1940, he and his family occupied his fourth brother's house in Woo Jow Gerk, about an hour's walk from Hang Mei. Because he had no sons he took a second wife Lum Siu Ying5 from the village of Sha Tin, aged 27 and considered to be past the marriageable age. Their daughter Pauline (Lowe Bo Ling劉 寳蓮) was born in Hang Mei on 4 August 1941.6 Lowe Gun's son Luke (Lowe Luk Chuen 劉 陸全) was born on 27 July 1945 and his second son Colin (Lowe Chat Chuen 劉達全) was born 7 January 1947.
Lowe Gun acquired land and employed villagers to assist in growing rice and vegetables. According to his family, he was very kind and generous to the village kinsmen which later helped with the way they were treated during the early years of Communist control. In a recent interview with son Colin, he spoke about his father and fourth uncle:
My father and his fourth brother were very close. When my father was away overseas he relied on the fourth brother to receive the money he sent back and despatch it to my mum and 'dai ma' (senior mother). The fourth brother was well liked in the village because of his generosity in sharing with others and we were treated better than others in the village when the communists arrived. This made a lot of difference whether we could get out or not and fourth brother and his family were able to migrate to Sydney. Return to New Zealand
Lowe Gun returned alone to New Zealand on 15 November 1947. He lived at 463 Khyber Pass Road – a two-storey house used by 'bachelor' Zhongshan men – until he found work again as a market gardener at the Fong Lee market garden in Wallace Road, Mangere. While Lowe Gun lived in Mangere 'I recall that when our family moved to the market garden in 90 Hall Avenue, Mangere in 1949 Lowe Gun was a very kind man, always smiling, and he used his old truck to take us and our few belongings. My brother Jack (aged seven) and I (aged nine) were seated rather precariously on the back tray.'7 He moved to Panmure on 15 September 1951 to be the occupier of the 'Fook Lee' market garden in Point England Road.8
The family settled in New Zealand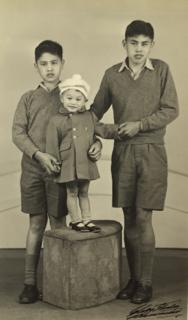 Lowe Lum Siu Ying accompanied by her two sons Luke (aged 10) and Colin (aged 8) arrived in New Zealand in August 1955. They were reunited with Lowe Gun and begin family life in the market garden in Panmure, Siu Ying helping her husband in the market gardens and the boys attending Point England Primary School. In May of 1956 youngest son Peter Lowe (Lowe Choy Chuen劉賽全) was born.
After three years or four years Lowe Gun was able to purchase a small market garden in Norana Road, Mangere and the family moved from Panmure. Here Pauline arrived to join the family on 26 February 1962 and in July 1962 her half-sister Lowe Bo King came out to New Zealand.
Tragically in 1966, Peter at the age of ten was drowned while playing with a group of boys around a hole that the Council had dug near the garden for a Sewage Pumping Station. 'We don't know what really happened but the hole had no safety barrier around it and it had rained a lot and had filled up with water,' said Colin.
Lowe Gun and his wife continued to work hard and he supported the family market until his death at the age of 80 in 1974. Colin recalls:
My father always considered China to be his home because of language, culture and other customs. He was here to make some money to send back to China. That all changed when the Communists came.
His wife Lum Siu Ying continued market gardening with the help of her sons. Her grandson Luke (named after his father Luke), whose family lived here when he was seven or eight years old to the age of twelve or thirteen, wrote:
We were not taught Chinese so we had communication through small conversation, broken English and small Chinese words we knew. She was hardworking, working the market garden, keeping chickens, cats (to kill the rats) cooking and cleaning. My fear of rats I think originated from her chasing me around the garden with a rat on a pitch fork that one of her wild cats caught, so she had a sense of humour.

I have fond memories of her cooking, a steamed egg sponge we used to have after school, drying pork outside in a fine mesh cabinet, drying pumpkin seeds to eat and slaughtering her prized chickens to eat.

We were made to work in the market gardens, which we hated at the time. We supplied Turners and Growers, which was located down Hobson Street (around the Viaduct) with vegetables for the market on the weekend, I think it was Sunday, so fresh produce was auctioned ready for the shops on Monday. I used to travel down with my Dad to help him unload so we could go to the cafe across the road for something to eat.

My Grandma wore this beautiful jade bracelet, that changed tone with her mood, rubbed Tiger Balm every night into her aching limbs and used to huck into this spittoon every night which she kept by her bed, this noise used to terrify me as my room was right next to hers.

She had a kindness and generosity too, gleaming a smile with that gold tooth and gifting us with money in a red envelope on Chinese New Year and other special occasions.9
Luke credits his strong work ethics, his resourceful ways and his respect for money to his father and grandmother. He says,
She showed me that everything has a purpose, nothing goes to waste, you can have a beautiful meal with everything in your garden and by staying humble truly means staying happy. Working hard to achieve a goal was always possible if you chipped away at it and stayed focused.10
Lum Siu Ying died on 20 January 1999 at the age of 87. She and her husband are buried together in the Mangere Lawn Cemetery.
Lowe Gun's Children
Lowe Bo King劉寳琼
In the late 1950s, Lowe Bo King moved to Hong Kong and found work as a machinist. In early 1962 Bo King was introduced to Ng Wai Hong吳偉康 a young man from New Zealand. Wai Hong was originally from the village of Nga Yiel in Jung Seng county, Guangzhou and after coming to New Zealand he formed a partnership with Lee Gam Poy, a market gardener of Wallace Road, Mangere. Wai Hong returned to Hong Kong for a holiday and possibly to find a wife. He met Bo King and they got married in July 1962.
Bo King was to help her husband in the market garden when she arrived in New Zealand. She and her husband tended their fields and grew tomatoes in their two glasshouses for many long years until their retirement.
Their three children are Barbara, now 51, Laura, now 49 and Jason, now 46. Laura is married to Michael Fischer. They have two children Mia and Ally.
Laura Ng11 recently wrote about her mother Bo King:
So much of our ancestry has been lost, as our parents did not speak about the past. Our mother used to reply to my questions about her past with, "The past is the past. A lot has happened, which I cannot change. We are here now – and there is nothing more to discuss'.

Bo Ling and Pauline were very close as sisters growing up in China and they continued their close relationship after they settled and had families in New Zealand. "My strongest memories of growing up were the family dinners at Aunty Pauline and Uncle Sammy's market garden in Thomas Rd, Mangere Central", said Laura.
Laura briefly recalls childhood memories of her parents:
I remember our parents as hardworking, honest and kind. They were generous to their friends and family with what little we had back then. When I was young, during the summer months and in preparation for Turners & Growers auction days, our family would work late into the night at the market garden.
Eldest daughter Barbara Ng provides these reminisces of her parents12:
I would call my parents "entrepreneurs". Because as long as I can remember my parents always showed the capacity and willingness to develop, and organise their market garden business, and manage the business along with all of its risks in order to make a profit to put away in the bank for the future.

As a market gardener's daughter, I would be expected to help out, at the market gardens leased from Water Care, located at 3 Creamery Road, Mangere, opposite the original site of Villa Maria Winery before they became world famous.

There was always something to do on the three and a half acres of outdoor land. Being weeding, planting or harvesting the crop ready for my Dad to take to the markets, Turners & Growers in the evening or early the next morning.

And working for my parents had its benefits, because that was my after school /school holidays/weekend, a part-time job where I earned pocket money. The lunch and afternoon tea was always provided by my Mum, for the family and workers that helped out in the busy times.

The market gardens were hard work, as in the height of summer, when picking tomatoes or packing lettuces or silverbeet, you would always be thinking of being somewhere else. And the other extreme would be in the middle of winter when the prices for broccoli was so very good, you had to be out in the freezing cold, and it was pouring with rain, to get the produce ready for the markets.

Mum and Dad were always looking at ways to do things different and happy to try new things in the market gardens. So, they were one of the first market gardens to start the "Pick Your Own Tomatoes" Since there was surplus and the prices were not too good at Turners & Growers, it was a good way to make extra income for paying the bills.
In the later years, her parents purchased two glasshouses to grow tomatoes and cucumbers, as the growth on the outdoor land was getting too hard for them:
My parents were always busy, so there were very few family outings. When we did go out as a family it was either to the movies or shopping at the large Farmers store located on Hobson Street. On the top floor of the Farmers building was a restaurant, where the family would have a meal that would not be Chinese food!
I know my parents worked hard to ensure my sister, brother and I had a good education, something our parent did not have. Also, my parents tried to establish a strong sense of value for working hard and saving for the future. As my Mum would always remind us to work hard at school if you do not want to become a market gardener! And growing up there we had no luxuries, just the essentials. All the meals were at home, cooked by my Mum, definitely no takeaways. Very different to the children growing up of today.
Ng Wai Hong passed away 13 October 2009 and NG Lowe Bo King passed away on 22 January 2016.
Lowe Bo Ling劉寳蓮 aka Pauline Lee
In 1962 Pauline quickly found work through a next-door neighbour who worked at a shoe factory in Onehunga. Pauline started work at the factory and earned £1 per day.
Pauline married Sammy Lee, from Hang Mei, Zhongshan, in 1962 and they raised a family of six children. They were market gardeners all their lives. Sammy's story is found in the Lee Buck Hong and Lee Gip of Hang Mei story. 13
Pauline was born in Hang Mei village where two of her uncles lived but she spent part of her early life in her father's ancestral village of Woo Jow Gerk. Pauline now in her seventies, happily recalls her early years when she lived with her mother, her dai ma (her senior mother) and her sister Bo King. Her grandparents had passed away before Pauline was born.
The following section contains her descriptions of life in the village of Woo Jow Gerk in the 1940s and then in the early 1950s before moving to live in the town of Sek Kei. Pauline's recollections have been translated from her 'Zhongshanese ':14
Recollections of our village
Our village was an elongated shape close to the river and ran parallel with the main road to Macau. The paddy fields were adjacent to a small stream that was a tributary of the river. We lived in 'sheung wan' 上 坎 (the upper section) of the village closest to Sek Kei, 15 which was about two hour's walk away. There was one row of about 20 houses with a few houses clustered behind us close to the gardens and hillside. We were the only family from upper Woo Jow Gerk who came to New Zealand.
The 'chung wan' 中 坎 (middle section) of the village had two alleyways and two rows of houses –perhaps about 20-30 houses. Low Jack Sue came from this section. This section contained the school and the village temple. The ha wan下 坎 (lower section) of the village was larger. It had about 30-40 houses. I did not know anyone from there.
Everyday activities
Pauline was very diligent ('hol cun lik'好勤力) as a child. She would go with her sister to collect rice stalks in the fields and cut dry grass from the hillside for firewood. For a little pocket money, she and other children would go into the paddy fields to 'jup wor' (pick up rice grains) left after harvesting – even a handful at a time. Pauline talks about her early life:
We liked digging up cockles out of the sand and 'tong ha' (trawl for prawns).16
We would also catch 'paan kee' (very small crabs17) using dried fish as bait. We would add these crabs into our 'jook' 粥 (congee or porridge) for flavour or sell the crabs for a little pocket money to duck herders.

We lived very simply. For drinking we collected water in metal buckets from the mountain spring and for washing, we used water collected from a large 'jeng' 井 (well). We only needed to buy a few basics such as peanut oil, salt and sugar. We just about had everything we needed to live. We would raise ducks, chooks and pigs. We would feed our pigs with 'gee hong' 豬 糠 (rice bran and inferior grains of rice). Once a year we would sell the pigs and keep one to share with our neighbour. There were no fridges, of course, so we salted and dried our pork.

We grew our own patch of vegetables on the hillsides. Each family had their vegetable patch on land on the hillside that had been flattened and terraced by our forefathers over many years. The weather was good and the soil was good – we could grow sweet potatoes, taro, peanuts, garlic, spring onions, leafy vegetables, and chives – any kind of vegetable really. We kept fresh urine for providing nutrients to the leafy vegetables. The 'night soil' was kept in containers and diluted with rice husks and the ashes (from our oven fire), before being applied as fertiliser to the land.

Rice – our basic food

Every household had a 'dee teng' (a concrete pad) to spread the rice stalks laden with grain out to dry. I remember stamping on the rice stalks and collecting the grain. We would get rid of the outer husks by pounding with a 'dui' ( pestle and mortar). We would also 'mor'磨 (grind) the rice with a millstone to make rice flour. Our family used one 'lor' 羅 (one bamboo basketful) of rice each month - about 50 'gun' or 25 kilograms.

Our rice was not perfectly polished rice – it was like brown wholemeal rice. We used to complain about it then, but nowadays we would say it was much healthier for us to eat like that.

Later we would ask our neighbours to take our rice to Buck Toi 兆台to be milled by machine. We would also go there to pick up a few supplies from the shops. It was about a 20-minute walk away towards Hang Mei.
Tenant farmers
Pauline's family used to own 60 'mou' of land (about 10 acres), some of it was close by and other allotments were more distant. The land was farmed by 'dan gaa lou'蜑家佬(Tanka people18). Pauline says:
They were very hard working. They lived by the riverbank in a small cluster of thatched huts we referred to as 'marl liu ook'. They gathered the 'marl'茅reeds [Cogon grass cut from a plant growing in the hills] to thatch their roofs and they used red clay mixed with rice stalks and husks for their walls. The floors were made with compacted mud. They had a pad outside their house to dry their harvested rice. They would pay us in rice in lieu of rent.

I was told that the farmer would get up at 3 o'clock in the morning and eat a bowl of fried rice before working all day in the rice fields. They were very kind to us and would bring and live ducks and some of their speciality – a large flat 'jeen dui' (fried dumpling) with a filling inside like 'rice bubbles'.

Schooling

I was ten years old before I started primary school in 1951. Before school, we would eat a bowl of rice together with 'chung sum choy' 冲心菜 (Chinese cabbage) or 'gao choy' 韭菜 (Chinese chives). There was a 'jarp for' 雜貨 (mixed goods) stall where we could buy something for lunch. Sometimes we would buy 'gee cherng fun' 㨋長粉 (long rice rolls) for a couple of cents from itinerant sellers.

It took us about an hour to walk to our school, which was located at the end of the middle section. There were about four classes with about 10 -20 pupils and three or four teachers. The teachers stayed in Sha Kong沙 江 and walked 30 minutes to our village. We were taught Geography, History, Cantonese and Chinese literature. We did not have to pay for school fees. At home, we had a few schoolbooks, but we had no radio and no newspapers.

I remember that our school toilets were outside – they were tiled, quite clean, and we were able to flush them with water. The effluent drained into a concrete tank and was sold to farmers as manure to spread on the gardens.
Political changes
The early period of Communist rule, which commenced after 1 October 1949, was not a good time for the family. The land was taken over and run by local officials – the beginning of collectivisation. Pauline remembers that there were shortages and restrictions on food and one had to be careful about what one said. Pauline had to take a year off school when she was 11 years old. She explains:
As 'dee gee'地主 (landlords) our two mothers were escorted away to the local headquarters and placed in a 'hark fong' (dark room) and kept for two or three days at a time for 'bou dou' 報到 (questioning and re-educating). Big sister and I would and take them rice to eat each day, as they were not given any food
Very fortunately the family was not hurt or harmed as they were considered only very minor 'overseas' landlords. But life in the village had become uncomfortable because of the changes in farm practices and the villagers' and tenant farmers' attitude towards former landlords and their families.
Move to Sek Kei
Because of the changes in the village, it was going to be easier to make arrangement to deal with officials in Sek Kei in order to come to New Zealand so the family (except for 'dai ma') rented accommodation there and Lowe Gun sent money from New Zealand to support them. They remained in Sek Kei for some time awaiting permits to come to New Zealand. Her mother and brothers were the first to leave in 1955.
Pauline said, 'I went to school for several years but I didn't finish my secondary schooling. We heard that it might be harder for the government to let me go if I graduated, as they needed qualified young people to help with the new China, so that's why I stopped.'
Pauline was the last of her family to leave Sek Kei. She kept herself busy and often went to visit her 'dai ma' and relatives in Woo Jow Gerk. She usually walked or would sit on the back of a bicycle for three cents. Neighbours who had growing families had occupied their house and lived with 'dai ma'.
It was 1962 before she left for Macau where Lowe Gun had arranged her papers to come to New Zealand. 'China was not good then – but today it is very, very good,' says Pauline who paid a visit to Woo Jow Gerk to 'bai shan' 拜山 (pay respect to ancestors) twenty years ago.19
Luke Lowe (Lowe Luk Chuen 劉陸全)
Born on 27 July 1945, elder son Luke was aged ten when he arrived with his mother and brother Colin in August 1955. He attended Point England Primary School, Tamaki Intermediate and then Otahuhu College. After leaving school Luke worked in his father's market garden part-time and owned his own commercial cleaning business. Luke, now retired has been a long-time member of the Auckland Zhong Shan Clan Association.
Luke married Cathy Pihema who was originally from Ruawai and was one of 14 children. Luke and Cathy had four children: The eldest was Leanne born in 1966; she sadly passed away in 2013. Her partner was Richard Rakete and they had four children: Wharemate Grant Rakete born 5 June 2001, Waimara Shee Rakete born 8 January 2004, Reihana Leanne Rakete born 2008 and Ropata Shayne Rakete born 6 May 2010.
The second daughter was Catherine born in 1968. She is a teacher and married to Lloyd Rivers-Smith with children Akilah, Amber and Francis.
Their two sons are: Luke Chan Lowe born in 1969, (a sign writer who moved to Melbourne to live in 2002) is married to Janine with two children Taine and Jarrah Lowe; and Raymond Lowe born in 1975 and is married to Dana Nellie Douglas. Their children are Dana, Freedom, Raymond, Caleb and Leah.
Son Luke talks about his father Luke and mother Cathy:
My Dad who was a very hard worker and good provider always had two jobs, working the market garden during the days and weekends and also worked shift work at Union Carbide making batteries and prior to that Kensington Carpets in Panmure. Both jobs started in the afternoon and finished around midnight allowing him to do some garden work during the day then resting to get ready for the afternoon shift, he did this for many years, it's amazing as I have done the same working two jobs for many years too.

Although My Mum lived with my Grandma for a few years, they never formed a close relationship, there was the language barrier as well as the cultural difference, they accepted each other but I don't think there was that Mother – daughter-in-law relationship.

We were predominately raised by my Mother and bonded closer to her side of the family, my Dad being a worker was either working or sleeping so the nurture came from our Mother and her whanau, we were accepted and felt more comfortable with this side.

Luke feels that they had an interesting upbringing:

Growing up was a little hard, we were teased at school for being Chinese-Maori but spoke neither language, there were no other Chinese-Maori at our school at this time. It was South Auckland, which during that time were predominantly Maori, Polynesians and a few Pakeha.

However, we have lovely memories of our cousins the Lees and bridged the gap, as we got older. We used to visit the Lees on a Friday, their hospitality was warm and welcoming, we used to have a big meal and the Elders used to play Ma Jong and smoke cigarettes. My Dad took us to special Chinese gatherings and other special family functions. 20

After his wife Cathy died, Luke married Feng Qun Wei 衛岡群from Guangzhou. Luke has now retired from work but enjoys seeing his grandchildren, travelling, dining with family members and participating in Zhongshan Association celebrations.
Colin Lowe (Lowe Chat Chuen 劉 達全)
Colin was born in Woo Jow Gerk on 7 January 1947 and arrived in New Zealand with his brother and mother in August 1955. After attending Otahuhu College, Colin attended Auckland Technical Institute (ATI), now Auckland University of Technology (AUT) where he gained his Diploma in Mechanical Engineering. He started work at Rick's Consolidated Ltd in Huia Road, Otahuhu. Colin gave up this work and trained to be a builder and qualified as a member of the Master Builders' Association. He has a strong interest in developing land and properties and has worked for over 35 years in the industry.
Colin is married to Wu Shun Lin 胡順蓮who was born in Hong Kong. Her father, Wu Pak Chi 胡柏枝, is from Shun De district順 德, Fo Shan 佛 山 and her mother's name is Ip Kwai Sim 葉桂嬋. They have three boys: Ben (42), Lowe Gi Ho 劉志豪 is an architect married to Mary Billington and has one child. Desmond (36), Lowe Wing Ho 劉永豪is an information technology (IT) engineer, and Jeremy (35), Lowe Gar Ho劉家豪is an accountant.
Auckland Zhong Shan Clan Association
Lowe Gun's five children in New Zealand have been members of the Auckland Zhong Shan Clan Association for many years. They have attended the celebratory dinners and other festive activities. They have helped with fundraising and the supporting of visits by dignitaries from China. Colin has been an active committee member of the association for many years and has returned to visit Zhongshan a number of times.
---
Acknowledgements
My thanks to Pauline Lee (nee Lowe) who provided the historical information on the family and recollections of Woo Jow Gerk on 23 April 2017 and in a number of phone conversations. My thanks also to Luke and Colin Lowe for interviews on 11 December 2017 and photos and information provided to me on their families. I was pleased to make contact with grandson Luke Chan Lowe (living in Melbourne) on 18 March 2018 who has provided a photo and insights of growing up in Favona Road, Mangere. At near completion of the story daughters of Lowe Bo King, Barbara and Laura contacted me and their photos and recollections have been included. All contributions have enhanced the overall story of the Lowe Gun family and are greatly appreciated.
Reference