"Story of Norman Choy written by Lily Lee from an interview conducted by Lily Lee with Norman Choy at 95 Symonds Street, Royal Oak, Auckland, 10 December 2007 and information provided by Vernon Choy, 30 July 2015."
---
Norman Choy (Gock Yet Wai 郭日維)1917 -2008
In January 1930 Norman Joseph Choy 1 also known as Gock Yet Wai郭日維, born 9 September 1917 arrived in New Zealand from Jook Sou Yuen 竹秀園, Zhongshan, China on a student visa accompanied by a close relative Gock Man Tin (Gock Mong Tin郭望) who owned a shop on the corner of Alba Road and Manukau Road in Greenlane in with his brother Gock Lerng.2 Norman, who had lost his mother at birth,3 was aged 13 but gave his age as 11 to avoid paying full fare. His papers were arranged by Norman Doo, who was a very close friend of his father Jack Choy (Gock Jerng Choy).4 It was expected that Norman would help his father as much as possible during his schooling at Marist Convent and Sacred Heart College.
Jack Choy in the 1930s
Norman recalls how his father, born in 1886 in Jook Sou Yuen, Zhongshan came to be a wholesaler of fruit and vegetables: 'First of all my father had a market garden in the 1920s near the site of the old Onehunga woollen mills in Neilson Street. But then he left that and went to Wanganui for a short time. It was not until he came back to Auckland in the late 1920s that he decided to buy and sell vegetables.'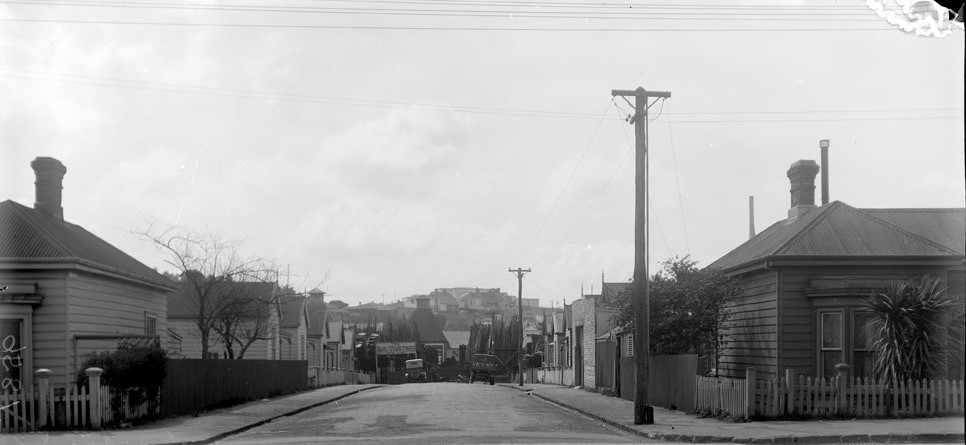 'He borrowed money from Thomas Doo to buy a truck,' said Norman, 'and he rented a house for £2 a week at 394 Khyber Pass Road,5 Newmarket.' The wooden bay cottage was on the corner of Suiter Street and had five bedrooms, a living room, a kitchen and gas stove. His father slept in one room and the other rooms were sublet to other kinsmen of the Zhongshan clan.
A One Man Band
There was a brick and wood shed at the rear of the house (on Suiter Street) where Jack Choy parked his truck with its load of fruit and vegetables purchased every Monday and Thursday from the markets. Sometimes surplus veges were offloaded there for 'next to nothing' by market gardeners who had completed the rounds of the fruit shops. Jack Choy used the shed for preparing, sorting and packing orders for hotels and boarding houses. 'Dad can't teach me anything because he doesn't even know. He can't even write 'cabbages'. Only way dad could do business,' explained Norman, 'he would do it cheaper- he would give them a price list for one month. We not like Chinese hawkers they did house to house and got paid straight away but they paid once a month – every time we sent them the bill.'
During 1932 and 1933 Norman, who had acquired a 'little bit of English' was able to help his father during the school holidays. 'I was a bit shy at first. We supply our regular customers: about 20 to 25. Wah Jang [of Queen Street] was the main supplier. We are small – only a one man band,' chuckled Norman.
In 1934 Norman's dad had a nervous breakdown and Norman was called upon to help even more. Norman says, 'my dad gave me a shilling a day. I go with dad to have a three course meal at the Golden Dragon – it cost 2/6 for roast duck. If we don't go there we go to the Orient Dining Rooms [in Newmarket]– a European restaurant –a three course meal for two shillings. Then we usually sell him a bag of cabbage or a case of apple!'
Norman's early ventures
In 1936 Jack Choy had a second breakdown and went back to China to recuperate. His business was initially taken over by the Public Trust. Then it was offered to Norman's guardian, Uncle Kwok Jew Kuen6 aged 35, younger brother of Jack Choy. He first arrived in New Zealand on 1 June 1920. A hawker of fruit and veges, he lived at the Khyber Pass house and often helped his brother. Uncle and nephew became partners and took over the wholesale business –'there was only a truck, no plant and a couple of pairs of scales' said Norman.7 'We got £10 a week and my uncle looked after the cash – we buy in the market, we have to pay cash- he's the finance minister!' laughs Norman.
In 1938 Jack Choy returned to New Zealand and wanted his business back. But again he suffered a breakdown and was committed to Avondale Hospital. Sadly for Norman his father spent the rest of his days there until his death on 14 November, 1942 at the age of 56.8ref008″> 'He tried to catch up to his village cousins,9 he wanted to be rich but he couldn't make it – I think that's why he had a nervous breakdown.'
Norman went back to being a boarder at Sacred Heart College in 1939 aged 21. Norman explains, 'I had saved up £600 and so I went back to school because the Immigration was chasing after me.' After a year or so Norman left school and was successful in gaining a work permit through the efforts of Bill Schramm the local Member of Parliament for Epsom.
A couple of years later he was also encouraged to buy the Khyber Pass Road property by the owner, Mr Joseph MacDonald who was ready to sell. 'He said to me, 'Norman you'd better buy it, if you don't buy it, you will have nowhere to put your veges.' Norman's replied, 'I've got no money, I've no business dealings, I've got no idea at all!' MacDonald said, 'I trust you, you pay me so much, I'll come along every week.' 'So I bought it off him.10 He charged me six per cent interest, so I gradually paid it off.'
Norman met his future wife Daisy Ah Chan ( 陳德時), born in Matamata11 when he visited her Ah Chan's fruit shop in Pollen Street, Thames, 'I went with my best friend George Chan, who was visiting his uncle. That's how I met Daisy- she was working in the shop.' Norman married in 1944 and had the wedding reception at Chung King Restaurant, Greys Avenue, which was part-owned by her uncle Chan Pang Gee.12
Norman Choy Fruit shop – 79 Karangahape Road 1947- 1958
In 1945 Norman bought the Market Tearooms in Custom's Street West next to AB Donald's and the couple worked it for two years. Daisy started at 6 am to make sandwiches and to open up but once their first son Donald13 was born an early start was more difficult. So Norman sold the business for £1500 and purchased 'a little run down fruit shop' on the corner of Liverpool Street and Karangahape Road in 1947. 'Two elderly Chinese men14 were running it. I only paid £1,000 for it. I held on to that fruit shop for the next twenty years!'
Norman recalls the ripening of bananas which arrived from Fiji and Samoa twice a month on the Matua. 'In those days we would go to the wharf and pick out the heaviest boxes -100 pounds a box. We put it in the 'gas room' – it's all natural gas. The floor and ceiling and door are wood- 'tongue and groove,' says Norman. 'You can read the temperature on the outside. You can overcook the bananas if it's too hot. Green outside, ripe inside!' he laughs. 'I think it was about 20 odd degrees. You heat up for one day or a few hours, and then you open the door.'
In 1949 he put his uncle Kwok Jew Kuen in charge of the shop paying him £8 per week. Soon his uncle had saved £200 – enough to bring his wife out from China on 4 October 1949. He continued to work in the shop with his wife and they were pleased to bring their only daughter Lai Yew out from China in 1953. She was aged 21 and she also started to help in the shop.15
'Mrs Wong Toi's relations from Fiji also worked in the shop. I don't remember who they are,' said Norman. In 1953 Young Man Chit returned from the Coromandel milk bar and fruit shop. He was accompanied by his wife and their sons Sam and Owen and daughter Una. The family moved into accommodation above the shop. 'The whole family worked for me,' said Norman.
Norman's role was to purchase the vegetables from the market. Youngest son Vernon Choy describes going with his dad to the city markets:
One of my early memories in growing up in Auckland was going to the Turners & Growers markets with my father. We were up before daybreak and got there in darkness but the markets were already crowded with buyers and sellers. Dad was known to everyone and he would talk to his friends and inspect the goods carefully before buying. Highlight of the morning would be a hearty breakfast after the auctions. In those days Dad had his produce delivered to the shop and he would get it ready for selling by washing carrots in a concrete mixer or cleaning up the cabbages and cauliflowers with a big sharp knife. Then everything was neatly displayed in the shop. He always said that the way to do good business was to give the customers a good price and they would always come back. One of the highlights for him was the Santa Parade as he would put on a huge display of strawberries outside the shop and get the good pre-Christmas price.16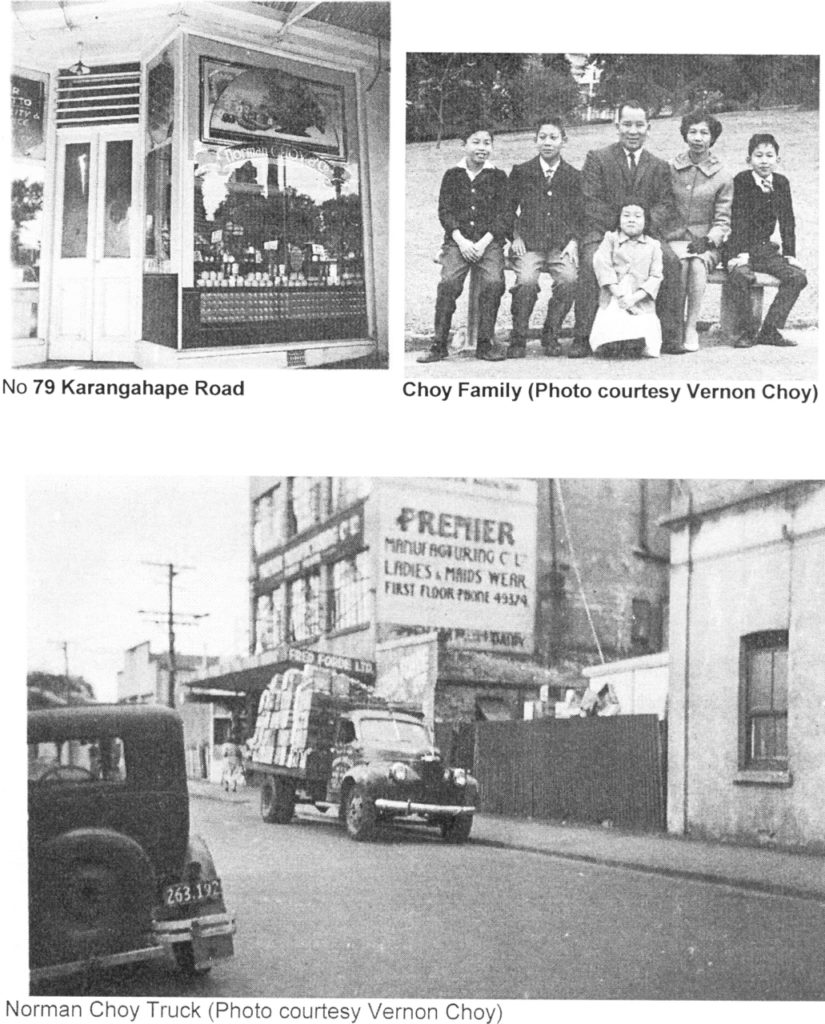 'I sold my shop to my uncle in 1958 and went back to Hong Kong for 18 months and came back in 1960,' said Norman.17 Kwok Jew Kuen kept the business until February 1964 when it was sold and he and his family moved to 444 Queen Street, Onehunga. Kwok Jew Kuen then began work as a labourer in the New Zealand Railway's workshop in Otahuhu.
Norman Choy & Co 255 Broadway, Newmarket: 1956 to 1965
During the same period Norman opened up another fruit shop in Newmarket near the corner Broadway and Morrow Street next to McKenzies on one side and the Newmarket Hotel on the other.18 Norman said, it belonged to the owner of Broadway Pies – a Mr Carmichael. 'I met him when I went to pick up a tray of pies for my tearooms every day before driving to Parnell to pick up cakes from Redwood Ruston.' Norman paid £2,000 for 'key-money' for the empty shop and £5 per week rent. The shop front was completely open with roller doors that disappeared from view to display the fruit and vege.
Norman employed two Chinese men to work the shop and gave them a third of the profit. One was Lowe Jack Sue a Zhongshan man from Woo Jow Gerk who had been in New Zealand since 1919.19 The other was Ng Long Yim – a former employee of the King Ching fruit shop.
Ng Long Yim 吳良焰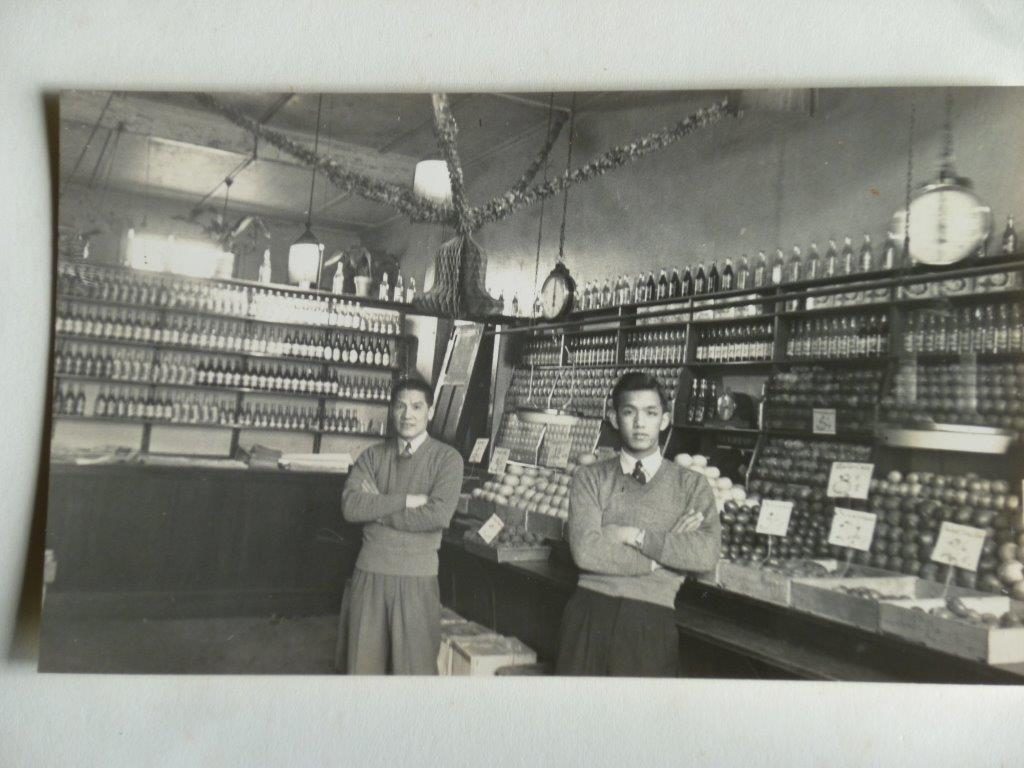 The shop was sold to Ng Long Yim 吳良焰, who carried on the business from 1966 to 1971. Ng Long Yim first arrived on the ship Maheno from Sydney on the 13 April 1920, aged 22. Bing Hing, son of fruiterer King Ching said that Ng Long Yim was his village uncle from Nga Yiel in Jung Seng. 'The customers liked him. He spoke quite good English and when he was working for King Ching for many years the customers thought he was the owner as he was the front man in the shop. His wife came out to New Zealand much later and she used to help him in the 'Norman Choy' shop. He had no children in New Zealand but he had a daughter in China. He died in 1982'.20 The shop was taken over by Lowe Whay Tung from 1969 to 1978.21
Norman Choy – From fruiterer to entrepreneur
Although not an ambitious business man, Norman seemed to possess the business acumen necessary to get ahead. His attributes were good planning, common sense, hard work and confidence: 'I got no fear in me. I never think about failure. I just go ahead. I do it step by step,' says Norman.
In 1953 onwards he engaged builders to demolish the Khyber Pass Road house, which had housed many a Zhongshan kinsman over the years. In its place in 1956 was a newly constructed modern building with Norman Choy's name inscribed outside on the concrete façade. At a cost of £10,000, it was one of the first large buildings built and owned by a Zhongshan person in New Zealand.
Before going on an extended holiday to Hong Kong in1958 Norman built a new brick house for his family on his section at 95 Symonds Street. This freed up the old cottage on the site, to accommodate relatives, like Uncle Kwok Jew Kuen and his family, and Mrs Chong Hin.
In Hong Kong Norman met his Jook So Yuen village cousins. One had become Chairman and the other Vice Chairman of the Wing On Company. Norman said they treated him very well and he gained inspiration from them. He returned to New Zealand 14 months later and looked for some land to invest in. Norman discovered an empty block of land in France Street, he says, 'I was looking to buy a piece of land in Queen Street, but that piece was gone, so I walked down to France Street and there was a big hole in the ground. Nobody wanted it, so I bought it for a couple of thousand pounds. I got an architect to draw up the plans.' It was a challenging project over four years: the building was to contain eight squash courts and to stand five storeys high. It was an achievement that Norman could be proud of. Still operating today, it was the first commercial squash courts in Auckland.
In the 1960s Penrose was one of Auckland's rapidly expanding industrial areas and Norman took the opportunity to lease one and a quarter acres at 16-20 Industry Road. He says,'I got eight tenants there. I got six factories and eight buildings altogether.' Vernon shares how he and his brothers would help dad:
Later, when Dad had left the fruiterer business and into building development, we would "volunteer" to do odd jobs during the school holidays. That involved a lot of painting, cleaning, denailing timber, more painting and then more cleaning. One summer we spent weeks helping one of the welders make steel reinforcing for the concreting. That was tough, and unfortunately, without proper eye protection, I suffered from very sore eyes for some time after due to exposure to the welders arc. We also got used to painting on a high scaffold, something I could never do now. Maybe as a result of these experiences, my two brothers Donald and Neville, became builders and worked on some of Dad's other projects.22
In 2007 he said he was still collecting rent from those buildings. Norman, at 91 years of age talked with obvious enjoyment about his investments: 'Well, I don't know what gave me the idea of building or expanding but I had a taste of the first one in Newmarket and so I expanded. I come back from Hong Kong and see my cousins do well and I come back and do it slowly.'
'Then I expand buying stock, I made a lot of money in stock.' 'BHP, Rio Tinto – I got a million dollars there –and in the National Bank of Australia, ANZ, Westpac and the biggest brewery in Australia, Victorian Bitter. All the resources like gold mine and coal mine, I got a lot of that. I'm not buying anymore now,' he says with a chuckle, 'I'm consolidating now.'
Norman Choy will be remembered by the Zhongshan community as a business icon and a worthy son who fulfilled his father's dreams. Daughter Janice says, 'He was a humble man who persevered in life and in his businesses. He was a self-made man and very proud of his achievements.'
Vernon Choy, who in 2013 visited his ancestral village of Jook Sou Yuen with sister Janice and relative Gock Fou Chen says that 'growing up in a Chinese immigrant family in the 1950s as difficult' but recalls that period as the ''good old days":
Life for the early Chinese in Auckland was difficult but with support from the close knit community and many friends often doing business together or helping each other Dad thrived. He also had a sense of integrity – his advice to us was not to do bad things as only more bad would come back to you. I remember one day on my first day at a new primary school, he was taking me to the classroom and some older kids were chanting the usual anti-Chinese stuff. He very quickly put a stop to it by going over to them and "gave them a good telling off". Secondary education at Marcellin College (for the three boys) and McAuley High School (for Janice) was a very happy time for us all. We all excelled at athletics, a sport that Mum also did well at when she was at Thames High School. She motivated us and took us to the Onehunga Athletics Club every week during the summer. Even when Dad was busy she would take us on the bus and we would walk to Waikaraka Park long since converted to stock car racing. With that start, it was very easy for us to take part in running events at high school and each year we would take part in school sports days, then inter-secondary school events and sometimes regional events. We all became school champions in our various races. Much later, we took our running skills to the Chinese Double Tenth and later Chinese Easter Tournament where our teams won the relay on opening day for several years, often winning by a wide margin. In the 60s, School Certificate and University Entrance were the exams to get passes. Although, none of us really knew of further opportunities after that. My brothers took apprenticeships with a local building firm whose owner knew Dad's friend Ou Hong in Mangere, so Dad was able to approach him for the positions. I, and later Janice, did better at High School and followed school friends to university. Dad was very proud of our achievements but was always unsure about what career prospects this pathway would provide as there did not seem to be "good business prospects."We were very fortunate to have hardworking parents who provided all of our needs and a great start in life. Their influence and legacy lives on with their fourteen grandchildren.23
After a long and happy life together Norman Choy died on 10 August 2008 and his wife Daisy died on 27 October 2010.
Reference