This story was written by Lily Lee from information provided by Nancy Wong Toi 11 June 2015 and by Anthony Fong, 3 July 2015. Also an interview with Nancy Wong Toi conducted by Lily Lee at No 36 (6E) Banks Apartment, James Cook Crescent, Newmarket, 11 June 2015.
---
Fong War Jue 方和照 1890-1948
Partner Sing Lee & Co – Broadway Newmarket 1934-1948
In the mid-1930s, Fong War Jue 方和照 was a partner of Sing Lee & Company but his exact starting date is unknown.1 He was born in 1890, and arrived in Auckland from Suva, Fiji, on the ship Atua, on 24 April 1919 aged 29.2 He was the eldest of eight brothers from the Fong village of Dun Tou Chuen 敦頭村 in Zhongshan. The sixth brother Fong War Sut visited New Zealand for business several times but lived most of his life in Fiji. He was a clerk at Kwong Tiy and Co (founded in 1918) for over 30 years before returning to Hong Kong to retire.3 The eighth brother War Git spent several years in New Zealand before returning to live in Hong Kong.
From the mid-1930s, Fong Wah Jue lived at 479 Khyber Pass Road at premises rented by his business partner William Hing. Fong War Jue's family arrived in New Zealand under the war refugee scheme in June 1940. His wife Fong Low She 方劉氏, a Lowe from Kai Gock (溪角鄉), Zhongshan was accompanied by her children Lois (Fong Wai Kum 方惠),4 Jean (Fong Wai Kwan 方惠群) aged four and Nancy (Fong Wai Soung 方惠嫦) aged three. In Auckland, the family continued to expand with the birth of Bill (Fong Wai Lum方惠霖) on 19 March 1941 and Julie (Fong Wai Sue) in February 1944.
During the war years, Rita Fong, who worked in Jang Hing's fruit shop on the opposite side of the road observed that 'sook bak' (War Jue) was always in the shop. 'He was always smiling. He was friendly to customers and was a 'softie', said Rita5. Fong War Jue's daughter Nancy recalls walking to the shop as a child with Wailin (William Hing's daughter) and sometimes sister Jean, to pick up veges for dinner and to collect the mail.
Unfortunately, the working partnership at Sing Lee's came to an end when Fong Wah Jue suffered a stroke. He was bedridden and cared for at home by his wife, Mrs Fong Lowe She for three years before his death in 1948. He is buried at Purewa cemetery in Remuera.
Pioneer Zhongshan Woman: Mrs Fong Low She 1908-1986
Mrs Fong (Fong Low She 方劉氏) was left widowed with five children at the age of about 42. She was to suffer another blow soon after when sadly her youngest daughter Julie aged five died of leukaemia in 1950.
Mrs Fong, without any knowledge of business and without ever having been to school set about looking for her own fruit shop business to provide for her family. It was a challenging time but she was an enterprising woman with great strength of character. Without a word of English, and with four children to bring up, she took on five shops within a ten year period.
Between 1949 to 1959 Mrs Fong managed five fruit shops. They were at: Dominion Road, Balmoral; 260 Manukau Road, Epsom; 389 Great South Road, Greenlane; Fenchurch Street, Glen Innes; 66 Queens Road, Panmure. Dominion Road, Balmoral
In 1949 Mrs Fong found her first fruit shop in Dominion Road opposite the Capitol theatre.6 She and eldest daughter Lois worked in the fruit shop and for part of the time she employed Gock Chung Wai7 to help her run it. He lived in a room above the shop which had its own separate front entrance. The room was included as part of the rent of the shop. Mr Low Nam 劉南, a fruiterer trading as J.N. Lowe, kinsman from the same village of Kai Gock was called upon to help at the auction markets. He would bid for fruit and vegetables and have them sent out to the shop by carrier.
The Fong family continued to live at 479 Khyber Pass Road, Newmarket. Daughter Nancy recalls that she and Jean, after attending school at Auckland Normal Intermediate, would catch two trams to get to Dominion Road to help their mother.
260 Manukau Road, Epsom
Another fruit shop8 near the corner of Ranfurly Road and 260 Manukau Road, Epsom was purchased in 1950 and the Dominion Road shop was sold. Mrs Fong and Lois worked in the Epsom shop while the Jean and Nancy attended grammar school and helped after school. Again Mr Low Nam did the buying of produce and the fruit and vegetables were delivered by carrier.
389 Great South Road, Greenlane
With Jean leaving school in 1951 and Nancy in 1952, Mrs Fong was able to utilise her girls to help in her business ventures. She bought Mr Low Nam's shop (J.N. Lowe)9 close to the corner of Rockfield Road, at 389 Great South Road, Greenlane.10 'The shop was next door to a butcher's shop, a dairy and Four Square – some of these shops were cleared to build Bradford's Furniture store and car park,' said Nancy.11
Mrs Fong continued to use the trade name J. N. Lowe as the name of the shop. As well as Nancy, who had left school at 15 in August 1952, George Wong (Wong You Fook), William Hing's nephew, was employed to work in the shop. After several years Mrs Fong was able to sell the business to George Wong who meantime had brought his wife and family out from China.
Fenchurch Street, Glen Innes
By 1953 Mrs Fong had sufficient capital to invest in two new shops in the Panmure-Glen Innes area of East Auckland where new housing suburbs had been developed by the government. Mrs Fong rented and started a brand new fruit shop in Fenchurch Street, Glen Innes12 assigning Nancy to look after it. Mrs Fong also purchased a new truck and Lois and Nancy learnt to drive.
66 Queens Road, Panmure
The other site was an empty section on the corner of Pilkington Road and 66 Queens Road, Panmure. Mrs Fong decided to build a fruit shop with accommodation for her family above the shop. When completed the family moved from 479 Khyber Pass Road and opened the shop for business. Mrs Fong employed and accommodated Sue Hing,13 a young man from Nam Mun, Zhongshan. His job was to collect the goods from the markets for both shops and to help with the heavy work of unloading the bags and boxes of fruit and vegetables.
Within a short time there were several fruit shops in Panmure, two owned by Jimmy Lowe, son of Lowe Gum Leong of Epsom. To help the business along Mrs Fong decided to sell ice-cream, biscuits and confectionary items. By 1956, son Bill Fong then aged 15 had left school and began his career in the family fruit shop.14 The family remained in Panmure for seven years working hard in the business before another move to Point Chevalier.
Fong's Super Fruit Mart – 1196 Great North Road, Point Chevalier 1960–1980
Point Chevalier shops at the corner of Great North Road and Point Chevalier Road was a very busy shopping centre in the 1950s and 1960s. It was said to be much busier than the present day.15 It was here that in the late 1950s that the Fongs found an unoccupied piece of land at 1196 Great North Road.
It was an ideal site with good road access to the back yard and a truck deck. The inside of the shop was spacious and the fittings were well laid out with a full-size kitchen dining area at the back for staff and family. There were four bedrooms upstairs.
Mrs Fong managed the shop with her daughters Jean and Nancy until they both married – Jean in 1963 and Nancy in 1964.16 Then Bill took on the main role of helping his mother build up her business and run the shop. In 1965 Bill married Janice Wong from Mangere whose parents were from Sun Wui, Seyip. She too was a great help in the shop.
Mrs Fong Lowe She continued operating her successful fruit shop for nearly 20 years before retiring. Sue Hing, a past employee for six years of Mrs Fong said that 'Fong 'sook moo' was helpful, and nice. A very, very good lady and a good boss.'17
Mrs Fong's nephew David Fong of Sydney wrote, 'I was in New Zealand, January 1956 to December 1958. For the first eighteen months, I stayed with the Fong family. Whenever Aunty and family were invited to birthday or wedding parties Aunty always included me as part of the family. Aunty and cousin's Jean, Nancy and Bill treated me well -like their own brother.'18 David also had this to add: 'Aunty Low She Fong, Janice and Billie surprised me by attending my wedding on 4 May 1968. It was her first holiday and she left her shop for her family to run for two weeks! Aunty never really liked travelling overseas. She always advocated that the seat in her sitting room is the most comfortable place to relax!'19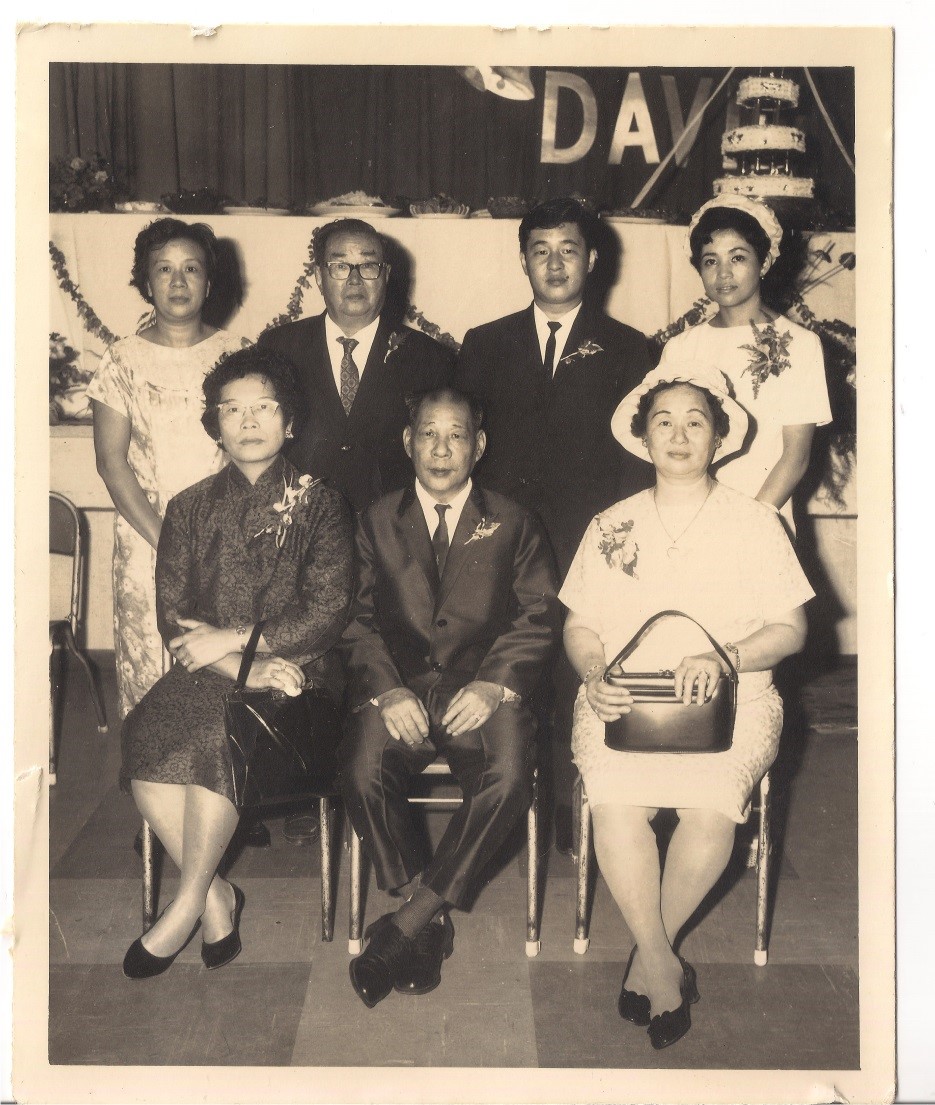 Mrs Fong would always give away bags of fruit to her many visitors who came to the shop and in 1969 she held a 60th birthday celebration at the RSA (Returned Servicemen's Association) for friends and family. She was a strong, exuberant woman who showed great determination throughout her life. She was very much respected among the Chinese community and much admired by the Zhongshan people for her guidance and leadership. She died in March 1986 and is buried in the same cemetery as her husband.
Grandson Anthony Fong20 shares memories of Por Por:
From birth until my 7th birthday, dad Bill, mum Janice and myself lived with Grandma Fong (Por Por).

Family and friends were never far away as Por Por was well known amongst the ever-growing Chinese community arriving in New Zealand. Friends such as the Wong family from Hastings often came to visit us and we are still in touch with Bill Wong and their families today, which is a great testament to the loyal friendships Por Por has taught us over the years.

For a while, we also had Dad's sister Aunty Jean and her family just a few doors down as well. This meant lots of fun playing with my cousins at the back of the shop and in our backyard.

In the fruit shop, I remember Por Por would always be talking to people in the shop even if she could only speak a few words of English. A few words such as "hullo", "yes" or "thank you" were often used in her friendly voice. Such a great communicator and strong family leader.

Por Por would also have time to make sure we always had enough to eat. Whether it was a yummy fried egg on toast, noodle soup or finishing off the bottom of ice cream containers from our neighbouring cafe which was just a treat! I will always remember going to the butcher next door to the fruit shop and buying a few slices of ham after school so Por Por could cut it up and add it to my rice noodles and soup. Such a great memory!21
Bill Fong (Fong Wai Lum 方惠霖) 1941-2012 – Fruiterer, Entrepreneur, Businessman
Bill Fong, (Fong Wai Lum 方惠霖) the only son of Fong War Jue and Fong Low She left school at 15 to help his mother and sisters run the fruit shop in Panmure. Bill worked in the Point Chevalier fruit shop through his young adult years. When he married Mangere girl, Janice Wong, (黃修嬋) of Sun Wui ancestry in 1965, she also worked hard in the shop. Their son Anthony (方沛光) was born in 1965 and daughter Michelle (方沛玲) was born in 1974. During this period, Jeffery Turner, Director of Fresh Direct, said that, ' the shop was a successful enterprise and the local community enjoyed their association with Bill, personable character, friendly with customers and fair with pricing.'22
In 1973, Bill sold his shop and together with his brother-in-law Peter Chan and his brother Ronald Chan, they became interested in the 'Three Guys' supermarket chain owned by Mr Albert Gubay, a wealthy overseas businessman. He was searching for people to manage the fruit and vegetable side of the supermarkets – a new idea at the time. Bill, Peter and Ronald seized the opportunity to set up fruit and vege shops within the Three Guys supermarkets. It was the first of its kind in New Zealand, – a great success. It made exciting news in the fruit retail industry. 'In fact,' says Jeffery Turner, 'Peter Ronald and Bill were so highly regarded, that I am sure that many people thought that they were the Three Guys!'23 They set up as the Auckland Fruit Centre Ltd with its head office in 424 Queen Street, Auckland and branches at Mangere, Papakura, Mount Eden, Northcote, Papatoetoe, Glen Eden, Onehunga, Avondale and Lynfield. After the heady years with Three Guys, the chain was sold to Progressive Enterprises Ltd in 1986.
In 1986, after the Three Guys chain was sold, Bill commenced a fruit and vegetable retail outlet at Otahuhu under the name 'A Market'. Bill continued in the Otahuhu shop until his retirement.
In 1991 Ronald Chan started the Vegie World business and Bill's Otahuhu shop became one of the original stores in that group. Then Bill together with Peter and Ronnie Chan and Billy Chong started their own Vege World franchise, which became the highly successful Fruit World brand. 'They found their own sites, designed their own shops and buildings and made sure there were plenty of parking spaces. They sold off the franchises to owner-operators and the directors received a small commission for buying the products and arranging delivery,' recalled Brian Young, then President of the Hawkes Bay Retail Fruiterers' Association.
'There were 13 to 14 shops which did extremely well. The key to the success of these shops was the expertise of the buyers like the two Bills and Ron, who all went down to the markets at 3 am and look over the veges and fruit. They were very aware of environmental changes – such as how the day to day weather impacted on the harvesting of veges. They were prepared to put the work in – in fact they had a passion for obtaining good produce at the best prices. These shops have been at the forefront of change New Zealand-wide for over 20 years.'
'Leading the way in fruit and vegetable business, the Vege World brand grew all across Auckland with many stores opening over the next few years. This successful business was the first fruit and vegetable supermarket concept and later became known as Fruit World.'24 In the last few years these shops have been sold off to Chinese investors – some are rented out and others are owned. Some are known as Vege World and others are known as Fruit World.25
Bill became involved in the Auckland Fruit Retailers Association26 early in his career and was the Auckland representative to Federation conferences in the 1970s, 1980s and early 1990s. Brian Young, who met Bill at conferences said, 'Bill was a good leader, he was forward thinking, and innovative. He was unafraid to challenge the status quo. One example was opposing the Apple and Pear Board over their regulations which he felt were unfair. The orchardists could sell their fruit to the public but not directly to shops and supermarkets. Bill wanted a free market as it was in other parts of the world. He could see the future was with the supermarkets and he wanted to join them.'27
Bill was a member of the Management Committee of the New Zealand Retail Fruiterers' Federation Inc from 1990 to 1992. He served as Secretary/Treasurer of the Auckland Retail Fruiterers' Association until 1976 and was a longstanding committee member of the Association until his death. His prominence in the fruit industry was recognised in the 1980s when he was asked to comment on the demand for fruit and vegetables on TV ONE. 'Those were the days that he teamed up with fellow retailer, Alastair Johnson, to present a weekly TV produce market report as part of the popular Top Half programme, and Bill Fong became a household name with all viewers.'28.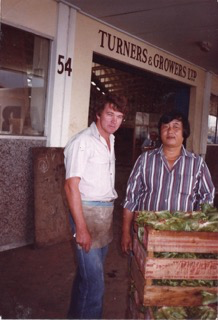 Not only was Bill was an outstanding businessman in fruit industry but his entrepreneurial skills extended to other businesses such as the Tai Ping Trading Company and the New Orient and Blossom Village Restaurant.
Bill was also involved in the Lion's Club and worked on a number of community projects. Bill was a Chartered Member and past President of the Point Chevalier Lions Club with over 15 years of community work and fundraising in Auckland.29
Another interest was Bill's was identifying with his county in China. Bill was a generous member of the Auckland Zhong Shan Clan Association for many years.
Anthony Fong shares fond memories of his Dad:
My Dad, Bill or William was a great man who had so many amazing qualities about him. From a quiet determination, a great sense of humour, a disciplined work ethic to being able to chat to anyone. All these characteristics attributed to dad becoming a successful businessman.

Dad always encouraged me to try everything in life and as I grew up I always had a holiday job at one of the Three Guys fruit shops. This was a great place for me as I had to learn to cut vegetables, bag fruit, use the cashier and talk to anyone and everyone who came along to buy fruit and vegetables.

Dad was well known in the fruit and vegetable industry and this led to his regular appearance on a nightly current affairs show called Top Half which was hosted by John Hawkesby and Judy Bailey. Dad would do a regular comment at the markets with co-host Alastair Johnson about the latest produce in stock as well as the odd joke added in! It was a well watched programme and dad had hit the big time as viewers were always excited about what would be the fruit of the week! I remember when dad would take me to soccer on Saturday mornings and when dad would bring over the oranges at half time, all the boys in my team would recognise my dad as the fruit and vege man on TV!

Dad was based at the Otahuhu Vege World and I have great memories of meeting him and the staff on Friday nights for dinner at a local Chinese restaurant. They would be all talking about the happenings of the week or the sports coming up in the weekend, so it was always a fun and relaxed time.

It must have been a brave move for Dad and the Chans to venture into the retail goods and Chinese restaurant industries but looking back now they seemed to be fearless, innovative and had this pioneering entrepreneurial spirit! They were so motivated to try their hand at anything and it seemed that anything they tried was a success!

I have fond memories of going to work at the New Orient restaurant every Sunday night with dad as a 15 year old working in the bar. It was so exciting to dress up in a white collared shirt, bow tie and black trousers and learn about drinks and alcohol as a teenager The bonus was to have a Chinese buffet meal after work with the staff! The restaurant was a success with the introduction of a yum cha menu on a Sunday and a full Chinese buffet for lunch and dinner on the other days of the week. I still remember seeing people waiting in line up the stairs and out onto the entrance at 6 pm as the buffet opened for another Sunday night.

Dad always encouraged us to learn more and education was important. Whether it was high school or University, Dad always wanted us to have as much study behind us as possible, I remember myself and my sister Michelle both use to travel from Point Chevalier to schools as out of zone pupils but now I realise it was all worth it to give his family better opportunities later in life.
To conclude Bill's story the following words from Jeffery Turner encapsulate Bill: 'He was always reliable, generous, good-natured and had a happy disposition. He knew his produce well, had a sense of humour and was well liked among the wider industry.'
Bill Fong died 14 September 2012. He is buried at Purewa Cemetery, Meadowbank, Auckland.
---
Supplementary
The following paragraph has been written by Anthony Fong:
With his family originally from the Zhong Shan region in China, Bill was born in New Zealand and joined the Auckland Zhong Shan Clan as a founding member. The Clan at that time was a meeting place for recent immigrants and local Chinese who had roots from the Zhong Shan region.
As a community-based Association, Bill and other founding members such as Sam Young and Sammy Lee wanted members to remember their culture by organising and celebrating events such as Chinese New Year and the Chinese Moon Festival. Bringing everyone together on a regular basis to meet was a real social occasion as many members were busy with families and starting new businesses in Auckland.
These events are now annual events on the Zhong Shan social calendar whereby social gatherings involving extended families are welcomed to a yum cha style lunch and a Moon Festival dinner.
Through the persistence and energy of our founding members, the Auckland Zhong Shan Clan Association is still strong with members of the current Committee continuing the cultural and social friendships built between Zhong Shan and Auckland.
Bill Fong's son Anthony is a current Committee member of the Auckland Zhong Shan Clan Association and he represented the Auckland Zhong Shan Clan Association at the 2007 Discovery Trip to China for Eminent Young Overseas Chinese Chinese in Beijing.
Reference