Bill Fong (Fong Wai Lum方惠霖) 1941-2012
Fruiterer, Entrepreneur, Businessman
Summary of the full article written by Lily Lee.
Bill Fong was clearly destined to be a successful businessman following the template and leadership example set by his parents.
Bill's father Fong War Jue 方和照 arrived in Auckland from Suva, Fiji in 1919 and his family joined him under the war refugee scheme in June 1940. His wife Fong Low She 方劉氏 was accompanied by her children Lois (Fong Wai Kum 方惠金), Jean (Fong Wai Kwan 方惠群) aged four and Nancy (Fong Wai Soung 方惠嫦). In Auckland, the family continued to expand with the birth of Bill (Fong Wai Lum方惠霖) on 19 March 1941 and Julie (Fong Wai Sue) in February 1944.
Bill's mother was obviously a very determined and enterprising woman as demonstrated by her achievements following a stroke and premature death of her husband. Without a word of English or business schooling, and with four children to bring up, she took on five fruit shops within a ten year period from 1949. The culmination was the Fong's Super Fruit Mart in Pt Chevalier. This shop and family home was the epicentre of the Fong family and many Zhongshan people will remember it for the gatherings and parties held there.
Mrs Fong managed the shop with her daughters Jean and Nancy until they both married and Bill took over, helping his mother grow the business and run the shop. In 1965 Bill married Janice Wong (黃修嬋) from Mangere whose parents were from Sun Wui, Seyip and they raised two very talented offspring, Anthony and Michelle.
In 1973 Bill sold the Pt Chevalier shop and together with his brother-in-law Peter Chan and Peter's brother Ronald Chan, operated the fruit and vegetable section of the 'Three Guys' supermarket chain owned by Mr Albert Gubay, a wealthy overseas businessman. This was quite revolutionary at the time and it gave the partnership the entrée into a rapid growth opportunity and the concept of franchising as we now know it.
After the heady years with Three Guys, the chain was sold to Progressive Enterprises Ltd in 1986. Bill commenced a fruit and vegetable retail outlet at Otahuhu under the name 'A Market' and continued in the Otahuhu shop until his retirement. Bill's Otahuhu shop became one of the original stores in the Vegie World and Fruit World chain of franchise stores.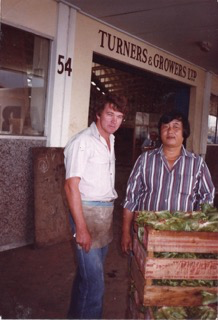 Bill achieved stardom in the 1980's when his prominence in the fruit industry was recognised and he teamed up with fellow retailer, Alastair Johnson, to present a weekly TV produce market report as part of the popular Top Half programme on TVONE.
Forget shares, stocks and bonds – fruit and vegs was where it was at – and our Zhongshan lad Bill Fong brought it to us – Bill became a household name with all viewers.
Not only was Bill was an outstanding business man in the fruit industry but his entrepreneurial skills extended to other businesses such as the Tai Ping Trading Company and the New Orient and Blossom Village Restaurant.
Bill was also involved in the Lion's Club and worked on a number of community projects. Participation and contribution to the Auckland Retail Fruiterers Association are noted with Bill advocating numerous ideas to further the industry being recognised by his colleagues.
Bill was a generous member of the Auckland Zhong Shan Clan Association for many years. In fact, he was the star performing roast pork auctioneer at most Association functions raising plenty during those early years when the Association was building its base.
The following was written by Bill's son Anthony Fong:
"With his family originally from the Zhong Shan region in China, Bill was born in New Zealand and joined the Auckland Zhong Shan Clan as a founding member. The Clan at that time was a meeting place for recent immigrants and local Chinese who had roots from the Zhong Shan region.

As a community based Association, Bill and other founding members such as Sam Young and Sammy Lee wanted members to remember their culture by organising and celebrating events such as Chinese New Year and the Chinese Moon Festival. Bringing everyone together on a regular basis to meet was a real social occasion as many members were busy with families and starting new businesses in Auckland.

These events are now annual events on the Zhong Shan social calendar whereby social gatherings involving extended families are welcomed to a yum cha style lunch and a Moon Festival dinner.

Through the persistence and energy of our founding members, the Zhong Shan Clan is still a strong Association with members of the current Committee continuing the cultural and social friendships built between Zhong Shan and Auckland."
Bill Fong's son Anthony is a current Committee member of the Auckland Zhong Shan Clan Association and he represented the Zhong Shan Clan at the 2007 Discovery Trip to China for Eminent Young Overseas Chinese in Beijing.
We invite you to read Lily Lee's full article for more regarding this amazing Zhongshan pioneering family.